About Dr. Caldwell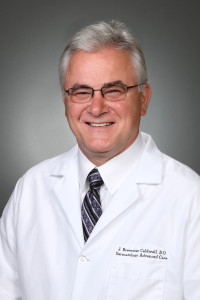 Dr. J. Brewster Caldwell graduated with honors from medical school in 1985, funded by an Army scholarship. He is board certified in internal medicine, dermatology and Mohs micrographic surgery. He completed his dermatology residency at Walter Reed Army Medical Center in Washington D.C., practiced for a few years, then returned for a Mohs fellowship at Columbia University in New York. Dr. Caldwell has authored 9 peer-reviewed journal articles. Teaching positions include family practice residents at Tallahassee Memorial Hospital, medical students from Florida State University College of Medicine and physician assistants from nova Southeastern University. He has practiced in Tallahassee, Florida for 15 years after completing his military service. He is currently in a solo practice and focuses on Mohs surgery and cosmetic procedures.
Hospital Affiliations
Tallahassee Regional Medical Center
Capital Regional Medical Center
Medical School
University of Health Sciences, College of Osteopathic Medicine, 1985
Residency Training
Internal Medicine Residency, William Beaumont Army Medical Center, Texas, 1989
Dermatology Residency, Walter Reed Army Medical Center, Washington, D.C., 1994
Fellowship Training
Mohs Micrographic Surgery and Cutaneous Oncology
Specialized Training
Mohs Micrographic Surgery and Cutaneous Oncology.
Health Care Participation
Dr. Caldwell participates in most regional healthcare plans, including:
Capital Health Plan
Vista
Medicare
Blue Cross Blue Shield
Tricare Standard/Prime
United Healthcare
Cigna
Humana
Aetna
Achievements & Awards
Certificate of Achievement, Outstanding ER Intern, William Beaumont Army Medical Center, 1986
Superior Unit Award, Walter Reed Medical Center, 1991
Meritorious Service Medal, 1991
Army Achievement Medal, 1991, 1992
Educator of the Year, Martin Army Hospital, 1996
Presidential Commendation, Florida Society of Dermatology, 2001
Fourth in class of 151, Medical School

What is a D.O.?
D.O's (osteopathic physician) and M.D.'s (allopathic physician) both attend four-year medical colleges. Both must pass comparable state licensing examinations, practice in fully accredited and licensed health care facilities. D.O's comprise a separate, yet equal branch of American medical care.
Osteopathic medical schools emphasize training students to practice a "whole person" approach to medicine. Instead of just treating specific symptoms or illnesses, they regard your body as an integrated whole. Osteopathic physicians focus on preventive health care. D.O.'s receive extra training in the musculoskeletal system—your body's interconnected system of nerves, muscles and bones that makes up two-thirds of your body mass. This training provides osteopathic physicians with a better understanding of how an illness or injury in one part of your body can affect another.